The new era of thermally efficient structural ground floors.
27th February 2019
Darren Hemsley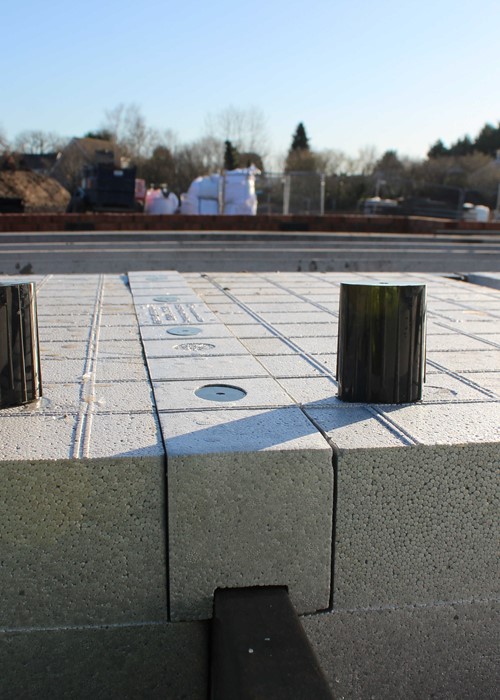 Following the introduction of the NHBC guidelines for reinforced concrete toppings used in conjunction with beam and EPS infills 14 months ago, the structural ground floor market has seen some transformations. An R2 system was introduced in an attempt to gain a competitive advantage, that has now seemingly left the market place as quickly as it entered. An emergence of structural slabs incorporating polystyrene have been brought to market, claiming to have all the answers, yet offer no solutions for sites with restricted access, or have a requirement for a radon barrier.
With neither of the above systems proving to be a complete or sustainable solution, EPS manufacturers Moulded Foams and Precast Company Litecast Ltd have once again collaborated to develop a new innovative product. A modification of the successful GT system (also known as G-deck) is currently in development and has recently been trialled on a site in South Wales.
The new "EMP", Embedded Micro Pile system, which has a patent pending, incorporates small oval piles made from Acrylonitrile Butadiene Styrene (ABS), a material most commonly found in motorcycle crash helmets, capable of withstanding 1000kg of pressure before showing visible signs of stress. Located in the EPS rail, directly above the beam, these piles significantly enhance the structural integrity of the flooring system.
Following rigorous tests, early indications suggest that the system will outperform every beam and EPS system currently available in the market; expecting to support line loads of up to 10kN/m, cross wall loads of up to 8kN/m and point loads of up to 6kN. With the ABS piles having the equivalent strength of EPS1500, 10 x stronger than that of any top sheet solution; the quality of the EPS is no longer the limiting factor of load bearing capacity.
The new EMP System will eventually be an "all in one" panel and rail combination, manufactured as one full piece; eradicating the need for dovetails or connecting pieces. This style of panel will be easier than ever to install, allowing a precise and tight fit over the header of the beams and designed in a way to be easily removable, one panel at a time.
As with Litecast's other beam and EPS solutions, the micro pile system eliminates the need for an additional top sheet, offering a quick and easy installation, that courses seamlessly. Micro piles will be colour coded according to the profile of the panel, allowing easy identification on site when following the technical drawings.
The new system is expected to be available later this year, please contact the Litecast sales office for further information."